translation samples - seeking A publisher
translated Excerpt from the spanish novel
cuerpos malditos [cursed bodies]
by lucia baskaran
Lucía Baskaran (Zarauz, 1988) is a novelist and activist from Spain. She has written for El Salto Diario, Playground Magazine, Tribus Ocultas, Kulturaldia and Eslang among others. Twitter: @luciabaskaran
Synopsis:
Alicia's life falls apart the day Martín dies in a car accident. Two years later she's still unable to go back to work, see her friends, or even leave her house. On the day he died, Martín had some flowers with him –bleeding hearts– but she still wonders: who were those flowers for?
Then there's Otto, Martín's older brother, who she's started seeing. This has brought her closer again to Anne –her best friend since childhood– although their relationship is not what it used to be.
Otto, Anne and Alicia start living under the same roof, and their bodies and lives intertwine in different ways while the three of them struggle to find a job, a sense of meaning, and their place in this world.
Adulthood is hard, and it is painful. The ghosts of her past close in on Alicia. Martín is still there, in that apartment and that town. But he isn't her only ghost. Alicia's mother, Cristina, abandoned her when she was fourteen, and now she is trying to get her back.
Contact [email protected] for rights information.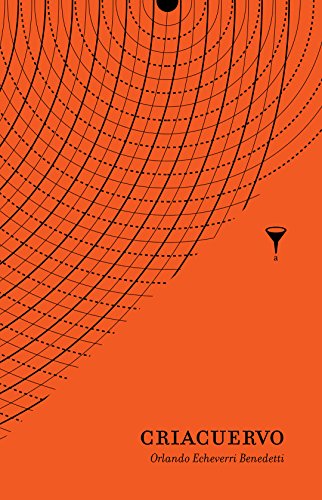 Translated Excerpt from the spanish novel
criacuervo by orlando echeverri benedetti
Orlando Echeverri Benedetti (Cartagena de Indias, 1980) is a Colombian writer and journalist. He is the author of two novels, Sin freno por la senda equivocada, winner of the national book award in Colombia in 2014, and Criacuervo, published by Angosta Editores in 2017. In 2018 Random House published his collection of short stories, La fiesta en el cañaveral. He worked for the newspaper El Universal, and his writing has been published by the magazine El Malpensante and Universo Centro. He has lived in Argentina and Thailand, and currently lives in Jersey, United Kingdom.
Criacuervo was included in Revista Arcadia's list of the ten best books of 2017 and was a finalist in the National Book Award of the Ministry of Culture in Colombia.
Synopsis:
Defeated and humiliated by the swift decline of his career as an Olympic swimmer, Adler Zweig has no other option but to consider how to rebuild his life. However, when he receives a photograph of his older brother Klaus through the mail, it raises the possibility of meeting him in a desert somewhere in northern Colombia, where he works as a diver for an oil rig. The person who sent him the picture, Cora Baumann, is an old friend from his childhood, and the ex-girlfriend of his brother. The meeting between Cora and Adler, which at the beginning is focused on the arrangements for the trip to the desert, soon unleashes a meticulous reflection on his own past: the devastation of his childhood, Klaus' youth devoted to violence, the unfathomable emptiness left in both of them by the death of their parents… but in particular, the love that he has been repressing for Cora Baumann, which will end up costing him his own life.
Due to a difference in their flight schedules, Cora is forced to travel to Colombia before Adler, and is therefore unaware of the circumstances that will result in his death. In Colombia, Cora realises that Klaus has lost an eye in an accident at work and also that he lives in a prefab bungalow located in a desert known as Criacuervo. Klaus explains to her that the company he used to work for has left the country, and that his only ambition is to stay where he is, isolated from the world, looking out onto a splendid beach, a crumbling oil rig and a lagoon inhabited by flamingos. While waiting in vain for the arrival of Adler, they decide to celebrate the reunion with a celebratory feast, in the depths of the desert. But Klaus' alcoholism and his personal conflicts will end up transforming the party into a horrific scenario.
This story of a truncated reunion between two brothers, explores the path of broken destinies, the illusion of free will, as well as the desperate search for meaning in a path we did not choose.
Contact [email protected] for rights information.